MapperG for MapInfo Professional
MapperG™ is an add-on to MapInfo Professional (version 8.5 or newer) that allows you to view Google Maps imagery in MapInfo Professional. Add Street Maps, Aerial Imagery, Hybrid Maps, or Terrain Maps from Google Maps with the click of a button.
MapperG integrates with your MapInfo mapper window and allows you to overlay your own vector data over high resolution imagery from Google Maps, giving you a clear view of your customer or retail locations, utilities infrastructure, or trade areas.
Street Level geocoding via the Google Geocoding API
MapperG now allows for international geocoding from directly within MapInfo Pro. MapperG Basic includes single-address geocoding, and MapperG Premium also enables batch geocoding for up to 1000 records per day.
Large Format Printing
MapperG Premium enables optimized printing for large format maps.
Automatic Map Refresh
MapperG Premium enables automatic map refresh when you pan or zoom the map.
The MapperG Premium Evaluation is good for 3 days, and allows you to request up to 200 individual map images to add into your MapInfo map. Batch geocoding is also enabled for up to 200 records.
Purchase MapperG in our Online Store


Full Solution Provider
In addition to MapperG, we also offer a full range of software, data, and services to fit all of your mapping needs. Learn more at
mappingsolutions.com
.
Samples
Click Here for a sample high resolution, large format map. (4.5MB PDF)
Here are some samples of the imagery available through MapperG:
Las Vegas, NV
Terrain Map for Salt Lake City, UT
Street Map for Manchester, UK
Johannesburg, South Africa
New Delhi, India
Paris, France
Rio de Janeiro
Sydney, Australia
Warsaw, Poland
Who Uses MapperG?
A sample of our clients include: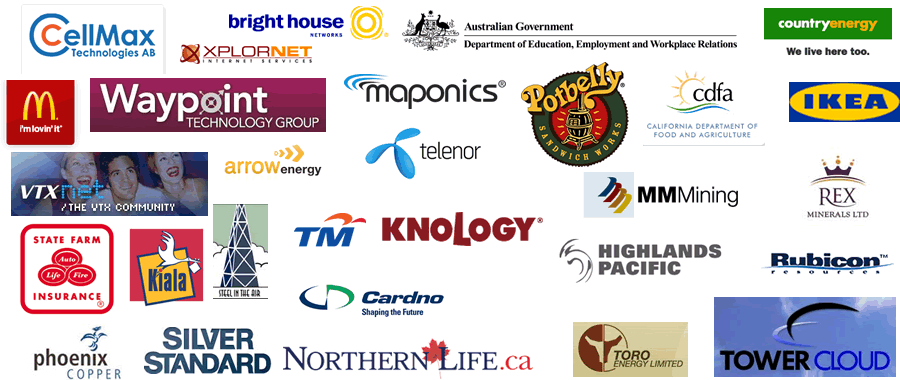 MapperG is in use worldwide!
For more information regarding MapperG